We support and work with a number of Linux platforms from top semiconductor chip vendors: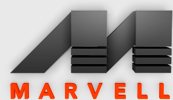 Marvell – a world semiconductor leader in the development of storage, communications and consumer silicon solutions. Marvell SoCs applications include home gateway/access point, set-top boxes, network storage, digital home media servers, point of services terminal, and plug computers.

TI is the third largest manufacturer of semiconductors worldwide after Intel and Samsung. ARM processor portfolio includes Sitara, Integra, DiVinci and OMAP families ranging from ARM9 to ARM Cortex-A8 and ARM Cortex-A9.

Analog Devices designs, manufactures and markets analog, mixed-signal and digital signal processing ICs. Being a leader in high performance signal processing solutions, the company offers uCLinux compatible DSP-like Blackfin processor family.

Fujitsu Semiconductor is a leading supplier of optimized SoCs serving the automotive, digital entertainment, networking and industrial markets.

STMicroelectronics – a key leader in the digital home, set-top box and GPS silicon market. ST's home video, set-top box and IPTV solutions include MPEG decoders, demodulators, silicon tuners and audio/video switches and buffers. ST's Cartesio family is the solution for PND, in-vehicle navigation, telematics, advanced audio and connectivity applications.