We have direct hands-on experience in STB platforms for DVB-T/T2, DVB-C, DVB-S/S2, ATSC and hybrid ones from world leading STB chipset vendors. When planning a digital TV or set-top box project one have to carefully select most suitable combination of MPEG decoder, tuner and demodulator ICs for particular set-top box application. Our supporting and technical consulting services around set-top box internals can help in your decision making and trade-offs evaluation.
STMicroelectronics – STi71xx

The complete decoder system-on-chip handles standard-definition MPEG2, H.264, AVS and VC-1/WMV9 streams at high speed using a dedicated on-chip video processor and ST's DELTA video decoding system. It also decodes web-based content such as Flash, MPEG-4 (Part 2), and MJPEG. Advanced security features include DVB, DES, AES, Multi-2 and ICAM descramblers, built-in smartcard interfaces, and SVP, MS-DRM and DTCP-IP content protection. These provide robust prevention of signal theft and protect revenues for conditional-access service providers.
UPDATE 2016: Since early 2016 STMicro is not in STB business anymore but they still do supply of popular STi7105 for example.
Marvell – Armada-1000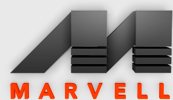 The Marvell ARMADA-1000 HD Media Processor SoC targets network-connected media-rich consumer electronics applications. The ARMADA-1000 features dual CPU cores running frequencies up to 1.2 GHz, a Qdeo video processing pipeline, dedicated hardware acceleration for multi-format video and audio decoding, and support for a comprehensive set of peripherals.
ALi – M3602


The ALi M3602 is a cost effective, highly integrated solution for High Definition MPEG-2, H.264 decoder applications. The M3602 has an embedded CPU, USB2.0 HOST, an embedded TV encoder, HDMI transmitter and accelerator for MPEG-2 and H.264 decoding. Other major function blocks include, DDR SDRAM/Flash memory controller, S/PDIF and 5.1 channel digital audio interface, and dedicated display engine for STB playback.
Fujitsu – MB86H61


The MB86H61 complies with the Digital Video Broadcasting (DVB) and China Audio and Video Coding (AVS) Standards. The decoder chip is capable of decoding MPEG-2, H.264/AVC, AVS and VC-1 compressed video up to HD resolution. It combines a fast ARM1176JZF-S™ CPU with more than 475 DMIPS with all features required by next-generation HDTV receivers including advanced security for supporting CI-Plus and the latest embedded Conditional Access (CA) systems.
UPDATE 2016: In 2015 Fujitsu merged with Panasonic it's system LSI business to form a new company called Socionext. In STB/DTV their activities were mostly around encoding and transcoding of 4K + HEVC, e.g. professional video and broadcast markets.
Besides our generic Embedded Linux development services, here is the list of set-top box development complimentary services:
Technical consulting, advice on platform selection
Technical communications with STB chipset manufacturer or CAS vendor
Set-top box prototyping using reference design and STB development kits
Schematic and printed circuit board layout design aimed to a lowest BOM possible
Set-top box software development and support
Set-top box middleware integration
CAS/CAM support
Tuner and demodulator selection, driver support
Front-panel development
Set-top box UI (skins) customization
Custom UI widgets: TV channel feeds, EPG, favorites, recommendations, weather, etc
Javascript/Webkit IPTV frontend development
IR or RF remote sketches, development, programming
STB Test software for mass-production, customization to manufacturing process
CAD 3D drafting and enclosure design